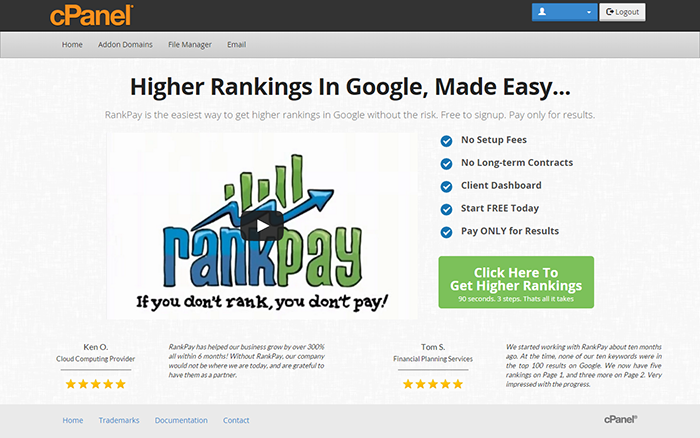 365ezone.com has recently partnered with RankPay
365ezone.com has recently partnered with RankPay to offer their customers an easy way to see higher rankings in Google using a cPanel plugin that integrates with RankPay's pay for performance
365ezone.com customers receive a $50 account credit and free on-page SEO optimization when they sign up with RankPay.
RankPay is a results-based SEO company that has been helping small business owners see higher rankings in Google since 2007.
Their cPanel plugin makes signup painless and gives our customers an easy way to improve their SEO without the risk or hassle. Because RankPay is a results-based SEO service provider, customers pay only for results — nothing else.
Another benefit of RankPay is they offer a social media management service that makes managing your social presence simple process.
Getting Started Couldn't Be Easier
1) Login to your cPanel account and find the RankPay icon.
2) Watch the video and click the green button to sign up.
90 Seconds. 3 Steps. That's All It Takes
With RankPay, you can kick off your SEO campaign without spending ANY money until you see results. Once you click over to our partner's site, the signup process is a breeze.
Enter your domain
Add your keywords
Create your account
You will be able to see upfront pricing on what you can expect to pay when your results are reached — until then you pay nothing.
Once your account is approved a member from the RankPay team will contact you to offer assistance and free on-page optimization before they get to work on building out your SEO campaign.
Use promo Code :- " 365EZONE " during signup and get $50 Account Credit
Ready to get started? Sign up today to get higher rankings.